Research focus
As the Figure below depicts, many factors are relevant to understanding what makes language teaching effective. Members of the L&E group focus on different factors, or combinations thereof, building on theories tailored to these factors. We apply these theories to L1 and L2 teaching and learning in various instructed settings, with a focus on primary and secondary education, thereby generating new insights that form the evidence base for understanding and improving language education.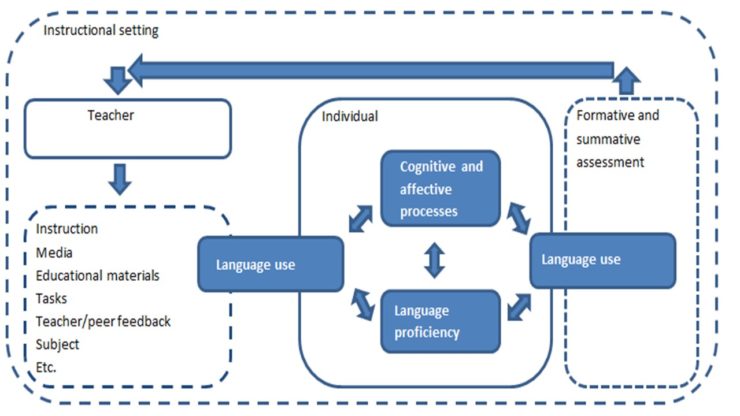 For example, concerning media, we investigate the specific affordances of computer-mediated and/or multimodal tools in promoting language learning and intercultural competence. In the area of assessment, we study how language proficiency can be measured in a valid and reliable way.
Language plays a two-fold role in our research. First, we investigate the factors in instructed settings that enhance language proficiency, i.e. with language as a dependent (target) variable. Second, we investigate the role of language as a mediating variable, looking at questions such as:
How does the quantity and quality of target language use affect students' language proficiency?
How can language use and proficiency be promoted in non-language classes, as in content- and language-integrated learning?
More information about our research group, its ambitions, and a summary of research product outcomes can be found here.